開拓社より,英語史研究会の出版シリーズ企画となる論文集第9号が出版されました.Variational Studies on Pronominal Forms in the History of English です.英語史における代名詞をテーマに,8名の著者による7本の論文が収められています.ご献本いただきました,ありがとうございます.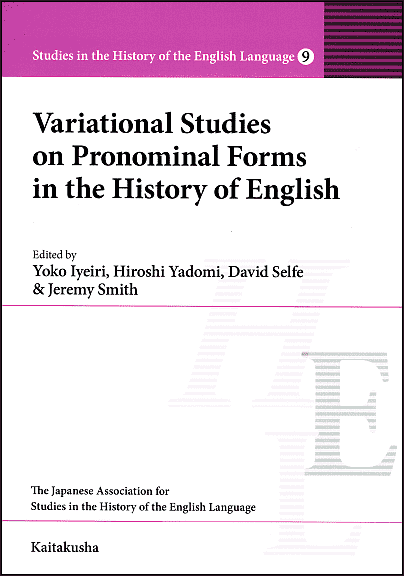 著者は私がいつもお世話になっている方々ばかりなので,それだけでも興奮してしまう論文集なのですが,テーマが英語史における(主に人称)代名詞 (pronoun, personal_pronoun) であるという点でも読み応えがあります.英語史研究では,代名詞は様々な角度から迫ることのできる「問題の多い」語類です.今回の論文集では後期中英語から現代英語期にかけての代名詞の諸問題が取り上げられており,英語史における代名詞研究の多様性と魅力に改めて気づかされます.序章の冒頭 (1) に次のようにあります.


The English pronoun is a complex category in terms of form and function, and its history provides numerous opportunities for the exploration of processes involved in linguistic evolution. This booklet has been compiled as part of this exploration, focusing on English pronouns in their historical context.


 論文集のラインナップは次の通りです.


Introduction
Yoko Iyeiri, Jeremy Smith, Hiroshi Yadomi & David Selfe

Syntactic Function and Pronominal Form in Late Middle English
Jeremy J. Smith

From Tho to Those in Fifteenth-Century English
Yoko Iyeiri

Wh to-infinitive Constructions in Early Modern English Drama with Special Reference to Shakespeare
Shota Kikuchi

Strategies of Power and Distance in the Trial Record of King Charles I: Combinations of Personal Pronouns and Modality in Speech Acts
Michi Shiina & Minako Nakayasu

Macro- and Micro-Pragmatic Approaches to Thou and You in John Donne's Sermons
Hiroshi Yadomi

Thou and Ye in Nineteenth-Century American Novels
Masami Nakayama

The Use of THOU in George Bernard Shaw's Plays
Ayumi Nonomiya


 後半の3本は,英語史上著名な thou/you の区別の問題を扱っています.本ブログでも関連した話題を cat:t/v_distinction の各記事で取り上げてきましたので参考までに.

 ・ Iyeiri, Yoko, Hiroshi Yadomi, David Selfe, and Jeremy Smith, eds. Variational Studies on Pronominal Forms in the History of English. Studies in the History of the English Language 9. Tokyo: Kaitakusha, 2022.